TOTAL RAISED -

£18,265.75 =)

;







TOTAL MILES
850
TOTAL CLIMB IN FT
58,698
Check out the route we cycled to Monaco below! ride2monaco took 8 days, covered 848 miles and took on 58,698ft of climbing, including the Col du Lautaret, the Col d'Izoard, the Col de Vars and the highest paved pass in the Alps at 2,700meters, the Col de la Bonette!!!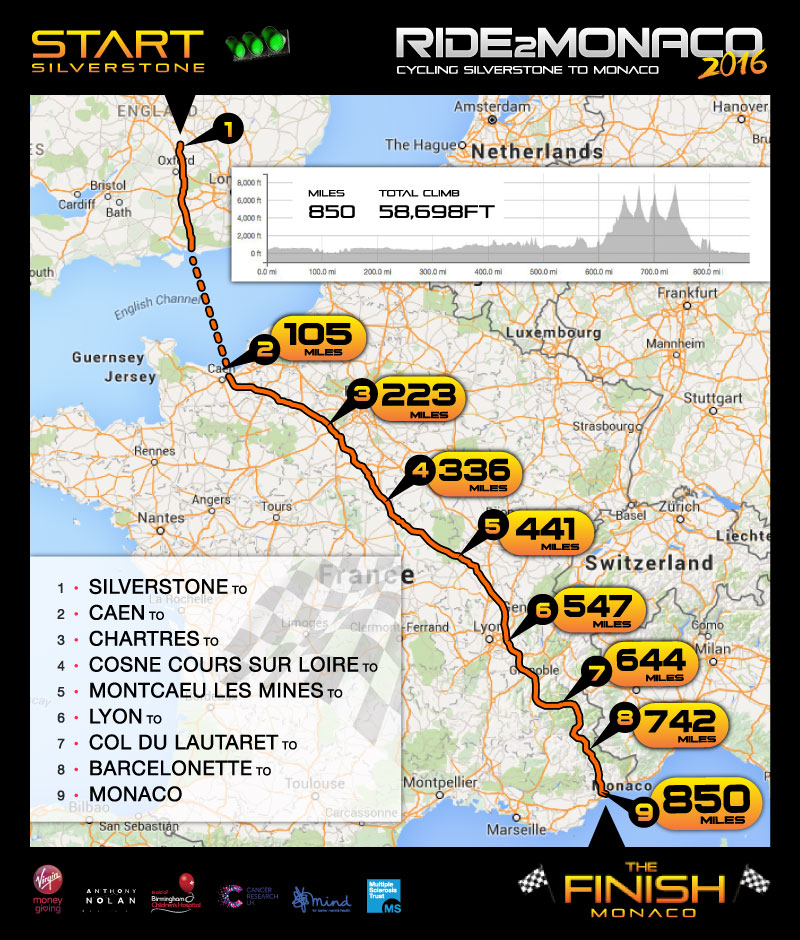 Click on a map to view the route on Strava... DAY 1



Friday 20th May 2016 105 Miles Silverstone

Portsmouth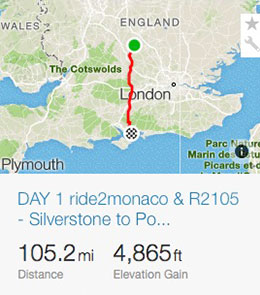 SEE THE DAY 1 STRAVA ROUTE DAY 2



Saturday 21st May 2016 117 Miles Caen

Chartres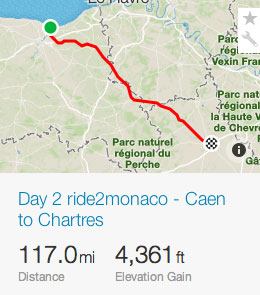 SEE THE DAY 2 STRAVA ROUTE DAY 3



Sunday 22nd May 2016 112 Miles Chartres

Cosne sur Loire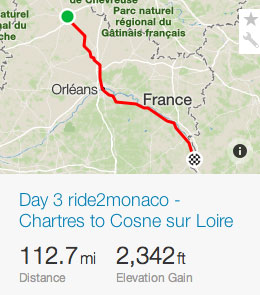 SEE THE DAY 3 STRAVA ROUTE DAY 4



Monday 23rd May 2016 104 Miles Cosne sur Loire

Montceau les Mines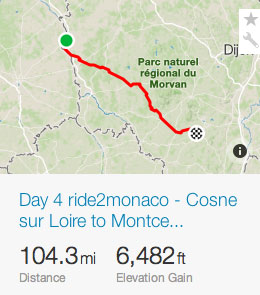 SEE THE DAY 4 STRAVA ROUTE DAY 5



Tuesday 24th May 2016 105 Miles Montceau les Mines

Lyon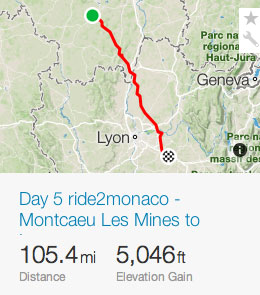 SEE THE DAY 5 STRAVA ROUTE DAY 6



Wednesday 25th May 2016 96 Miles Lyon

Col du Lautaret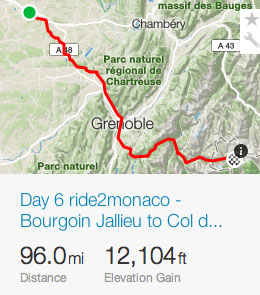 SEE THE DAY 6 STRAVA ROUTE DAY 7



Thursday 26th May 2016 82 Miles Col du Lautaret

Barcelonette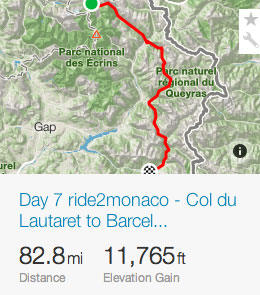 SEE THE DAY 7 STRAVA ROUTE DAY 8



Friday 27th May 2016 102 Miles Barcelonette

Monaco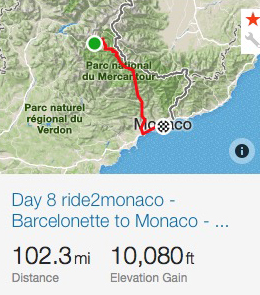 SEE THE DAY 8 STRAVA ROUTE





LIKE, FOLLOW AND WATCH US!
Follow @ride2monaco






The Charities ride2monaco is supporting...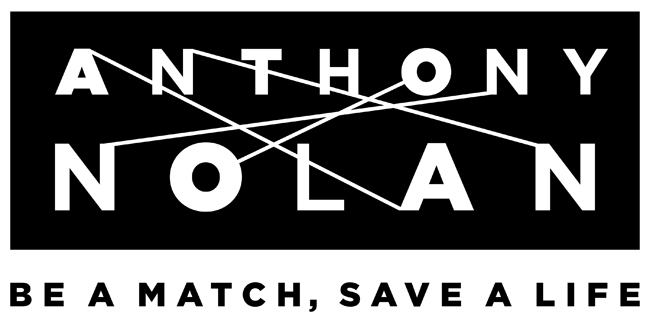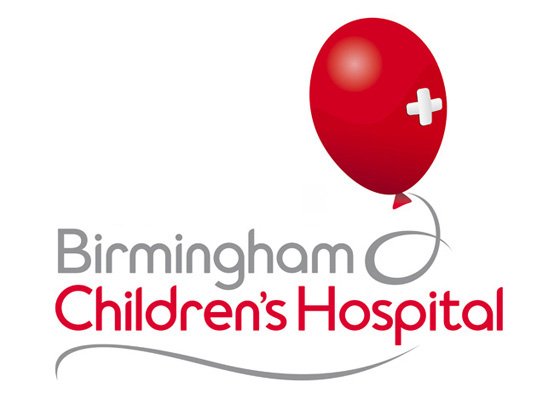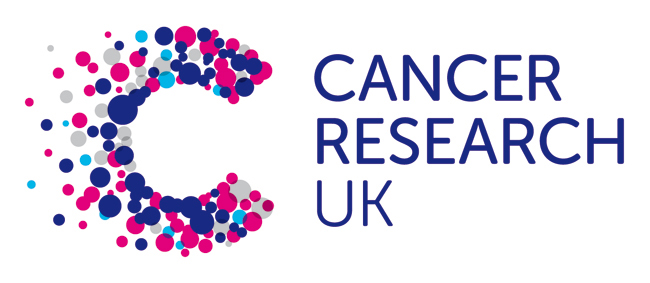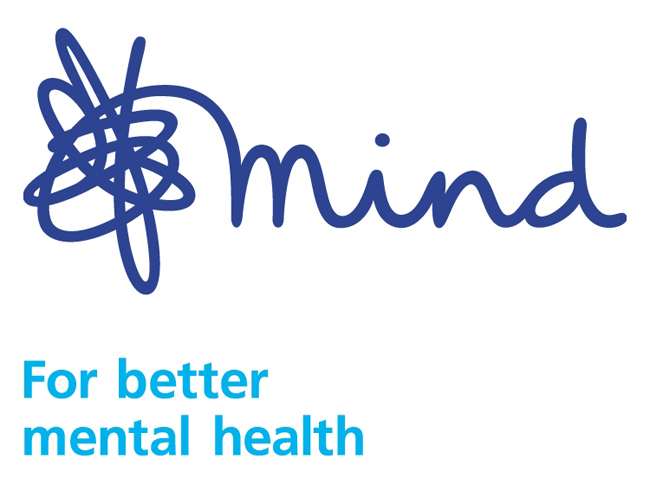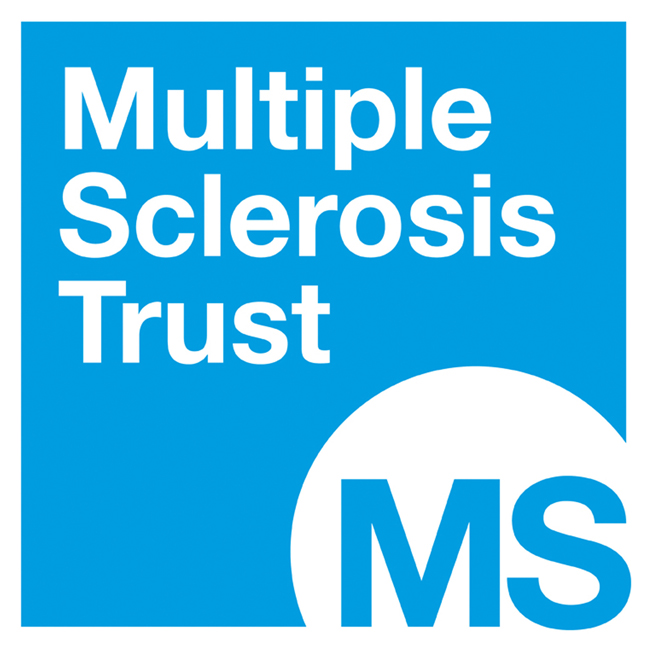 If you would like to take part in ride2monaco and raise funds for a different charity than those listed, that's no problem. Simply get in touch...


DONATE ONLINE!
Click the link below...



↑ BACK TO TOP ↑





©ride2 Cycling Events 2016. All content is copyright of its respective owners. All rights reserved.

This website and any content is not associated with the Formula One group of companies. F1, FORMULA ONE, FORMULA 1, FIA FORMULA ONE WORLD CHAMPIONSHIP, GRAND PRIX and related marks are trade marks of Formula One Licensing B.V.